This is Harbor's invitation to join your 130,000 colleagues and become a part of organized dentistry.
Membership with the Harbor Dental Society, California Dental Association, and the American Dental Association offer you powerful membership privileges.
You are making a smart investment to help build your practice, increase productivity, efficiency and profitability.
Now is the time to join to enrich your continuing education and business acumen, enhance your practice and professional development and dive into networking opportunities that deliver Real Value.
More good news! Harbor has kept its membership dues at 2014 rates to contain costs while continuously enhancing membership benefits and introducing new ones!
Now is the time to access the vast services catered to your needs!
VIDEO - 100 years of Excellence...Hear from Harbor members and leaders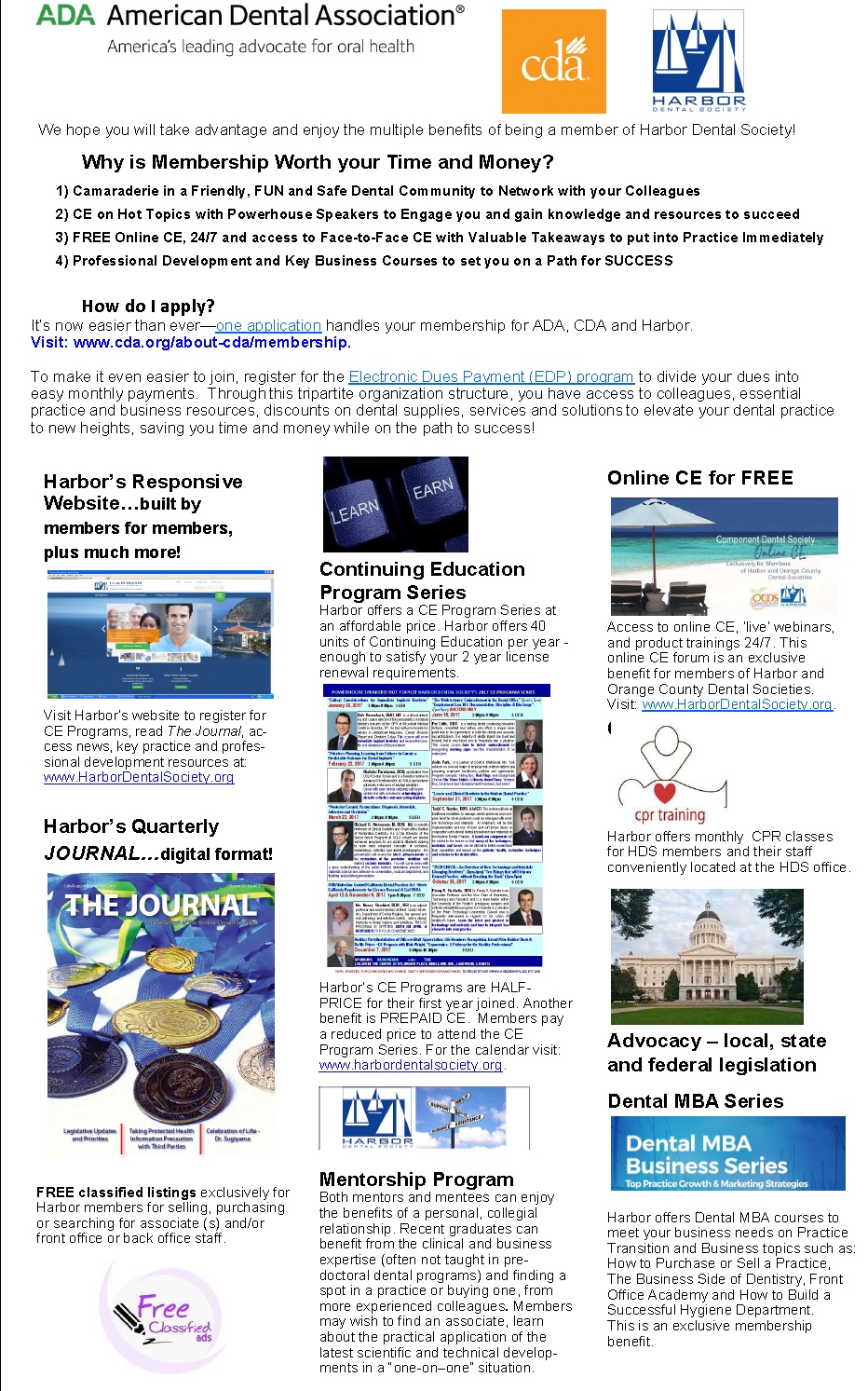 CE programs

at reduced registration fees

,

new members' first meeting is

FREE

FREE

practice-building Dental MBA seminars

Monthly CPR

courses for you and your staff
Employment Job Bank and Classifieds
Peer Review to assist with patient complaints and an attractive alternative to costly legal fees

Caliber publications

from CDA, ADA and Harbor's quarterly issue of the interactive and digital publication

The JOURNAL

Patient referrals via Find-a-Dentist by Harbor, CDA and ADA

Social events

for you and the family
Access to powerhouse speakers on relevant clinical core and practice management topics
Camaraderie and support from colleagues
Employment, HR resources and the Business Side of Dentistry
Licensure Renewal Courses (OSHA, Infection Control, and the California Dental Practice Act)
Representation at all levels of government on issues that affect organized dentistry
Job placement services for associates and auxiliaries
Leadership, networking, and volunteer opportunities
Community service along Harbor's Foundation and CDA Cares