This is Harbor Dental Society's invitation to join your 130,000 colleagues and become a part of organized dentistry.
Membership with the Harbor Dental Society, California Dental Association, and the American Dental Association offer you powerful membership privileges.
You are making a smart investment to help build your practice, increase productivity, efficiency and profitability...saving you time and money on education, resources, services relevant to you!
Join over 700 of your colleagues as member of the Harbor Dental Society. 7 out of 10 dentists are members so there is no better time to enrich your continuing education and business acumen, enhance your practice and professional development and dive into networking opportunities that deliver Real Value.
More good news! Harbor has kept its membership dues rates unchanged to contain costs while continuously enhancing membership benefits and introducing new ones!
Resources, education, services catered to your needs are at your fingertips 24/7!
VIDEO - 100 years of Excellence...Hear from Harbor members and leaders
Questions? Contact the Harbor Office, 562.595.6303 or Makayla Fowler at email: Mak@HarborDentalSociety.org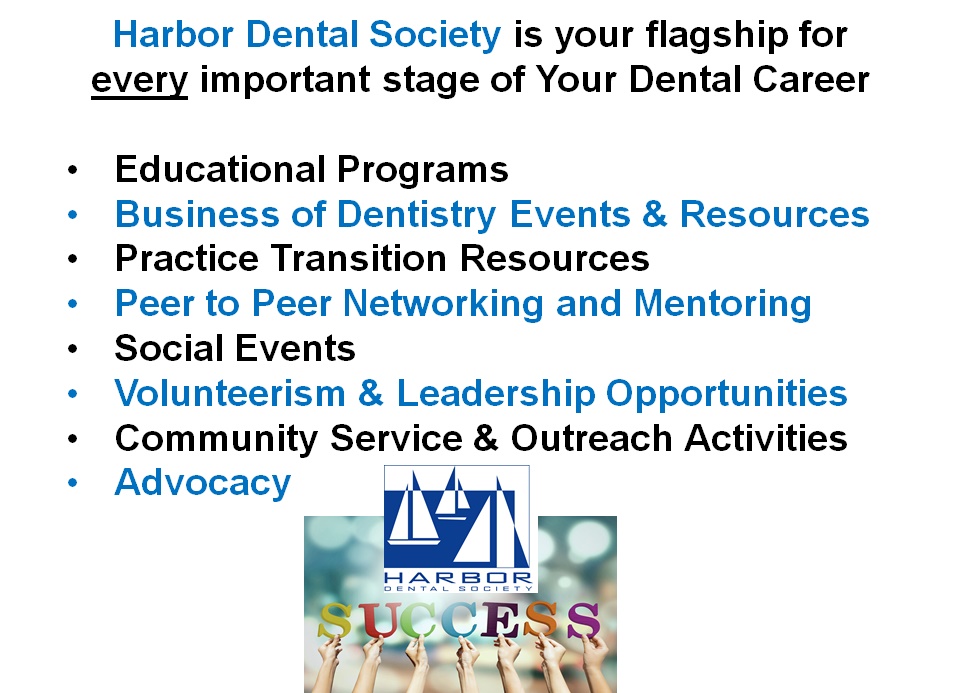 Harbor is here for you!

'Live' CE Webinars

tracked for you to help with licensure renewal

FREE

Business of Dentistry - A Series for Success
CPR courses for you and your staff
Employment Job Bank, Classifieds, and Dental Staffing Service
Caliber publications from CDA, ADA and Harbor's quarterly issue of the interactive and digital publication The JOURNAL
Patient referrals via Find-a-Dentist by Harbor, CDA and ADA

Social events for camaraderie and to connect with your peers
Value-driven endorsed practice solutions to meet your needs
Employment, HR resources and Legal updates for employers
Licensure Renewal Courses (OSHA, Infection Control, and the California Dental Practice Act)
Advocacy on issues that affect organized dentistry
Job placement services for associates and auxiliaries
Leadership, networking, and volunteer opportunities
Community service with Harbor's Foundation