Date:
12/3/2020
Time:
6:00 PM - 9:00 PM
Short Description:
Live CE Webinar & Installation Dec 3 Tweaked, Cracked, and Loaded
Event Registration:
Register for this event




'Live' CE Webinar
Thurs, Dec. 3, 2020
CE Topic: Tweaked, Cracked, and Loaded: A Profile of the Addicted Dental Patient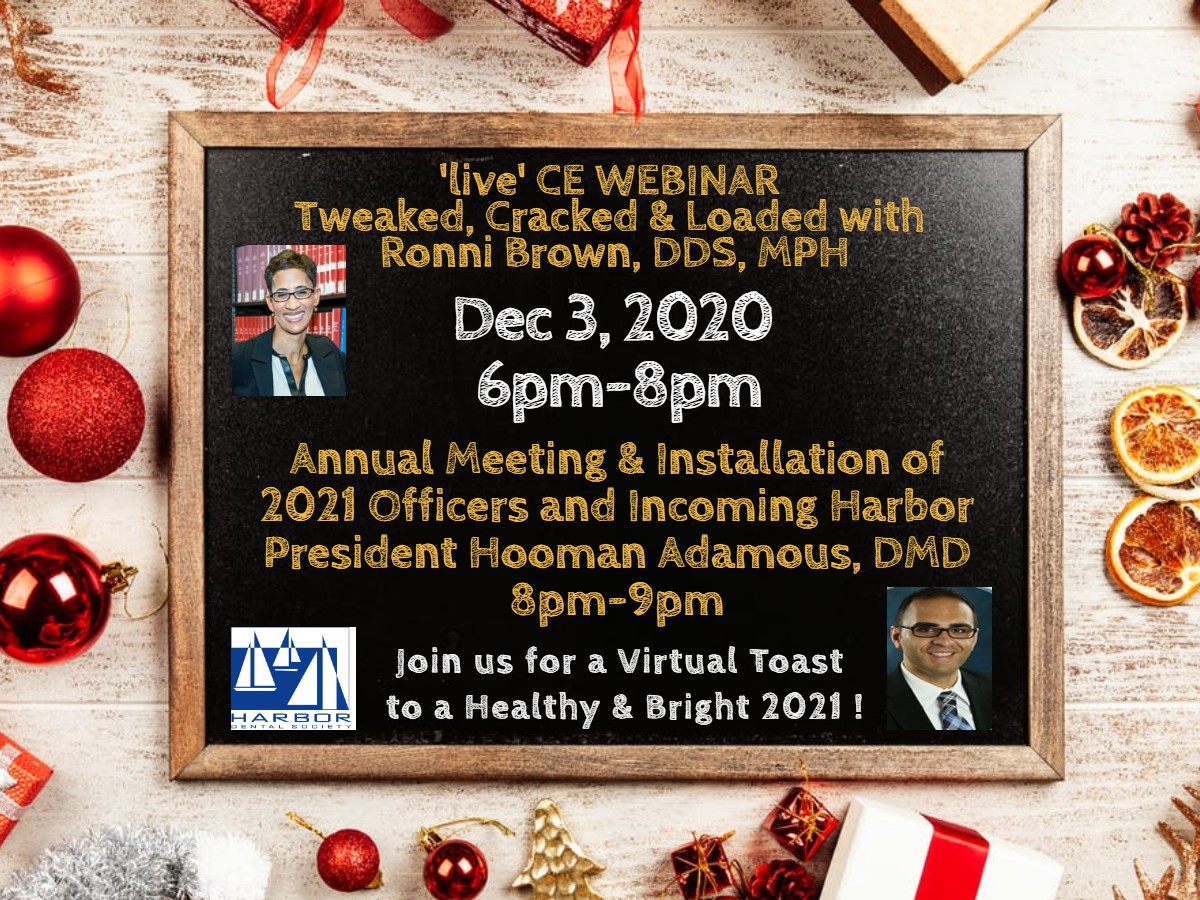 2 CEU core
CE Speaker: Ronni Brown, DDS, MPH
CE Time: 6:00-8:00 p.m. Be sure to attend, this webinar will not be recorded.
8:00 pm - 9:00 pm Installation of 2021 Officers and Incoming President Hooman Adamous, DMD with New Life Member Recognition, Staff appreciation, Past Presidents Tribute, and Grand Prize Rubber Duck. Join us for a Virtual Toast to Health & a Bright 2021
'Live' CE Webinar Description: Have you ever felt that your patient's substance abuse was the elephant in the room? Are you afraid to discuss your suspicions due to your own discomfort or fear of insulting your patient? Drug abuse is at an epidemic level with approximately 1 out of every 10 Americans addicted to illegal and prescribed stimulants, depressants, and opioids. As dental professionals, we must awaken to the uncomfortable reality that many of our patients are "tweaked", "cracked" and "loaded" and become more comfortable in detecting patients with substance use disorders. In this interactive webinar, discover the drugs that your patients are most likely to abuse. Learn how to become aware of patients with substance use disorders. Learn how to recognize the "clues" of addiction and how to discuss suspected abuse with your patients. Learn how to avoid being targeted for drugs by your patients and how to manage pain effectively without using opiate-based analgesics. Recognize your professional responsibilities and your own personal boundaries in treating the "addicted" patient.
Educational Objectives:
• What prescription and illegal drugs patients are most likely to abuse (depressants, stimulants, and opioids)
• How to identify the physical, behavioral, and oral clues associated with depressant, stimulant and opioid abuse
• How to discuss substance abuse with patients
• The dos and don'ts of treating the addicted dental patient safely and effectively
• Evidence-based practices for managing dental pain without using addictive analgesics
• How not to fall prey to patients who are "drug seeking"
Refund Policy: No refunds for no shows. Written cancellation must be received 2 days prior to the webinar date for a refund.