Friday, Jun 16, 2023
Boost Your Dental Practice on Google Maps: 3 Dental SEO Tips To Do Today
By Adrian Lefler
CEO My Social Practice
As a dental practitioner, you're an expert at ensuring patients wear their brightest, healthiest smiles. However, drawing those patients into your practice involves another skill set you might have yet to explore in-depth: optimizing your Google Business Profile (GBP).
The Google Business Profile is your practice's business listing in the Google business directory. When a potential patient searches on Google for a keyword like "best dentist near me" or "emergency dentist open on weekends," the search result will show the Google map at the top of the search page.
Most small business owners are unaware that all of the information you find in the Google map comes directly from the information on your practice's Google Business Profile, not your website.
Optimizing your GBP to rank higher on the Google map is a key tool to reach potential patients and help them discover your dental practice. The benefits are manifold: increased visibility, being chosen more often, and an influx of new patient phone calls who easily locate you.
But how do you begin the process? Let's look at three fundamental ways dental marketing companies help dentists optimize their Google Business Profile.
Set Up Your Business Categories Correctly
When setting up your Google Business Profile, your primary category greatly impacts how patients find you. Think of it as Google's way of understanding what your practice does and matching it to the users' searches.
Google pre-sets business categories; you can't make them up. You must choose from Google's list; there are only a few.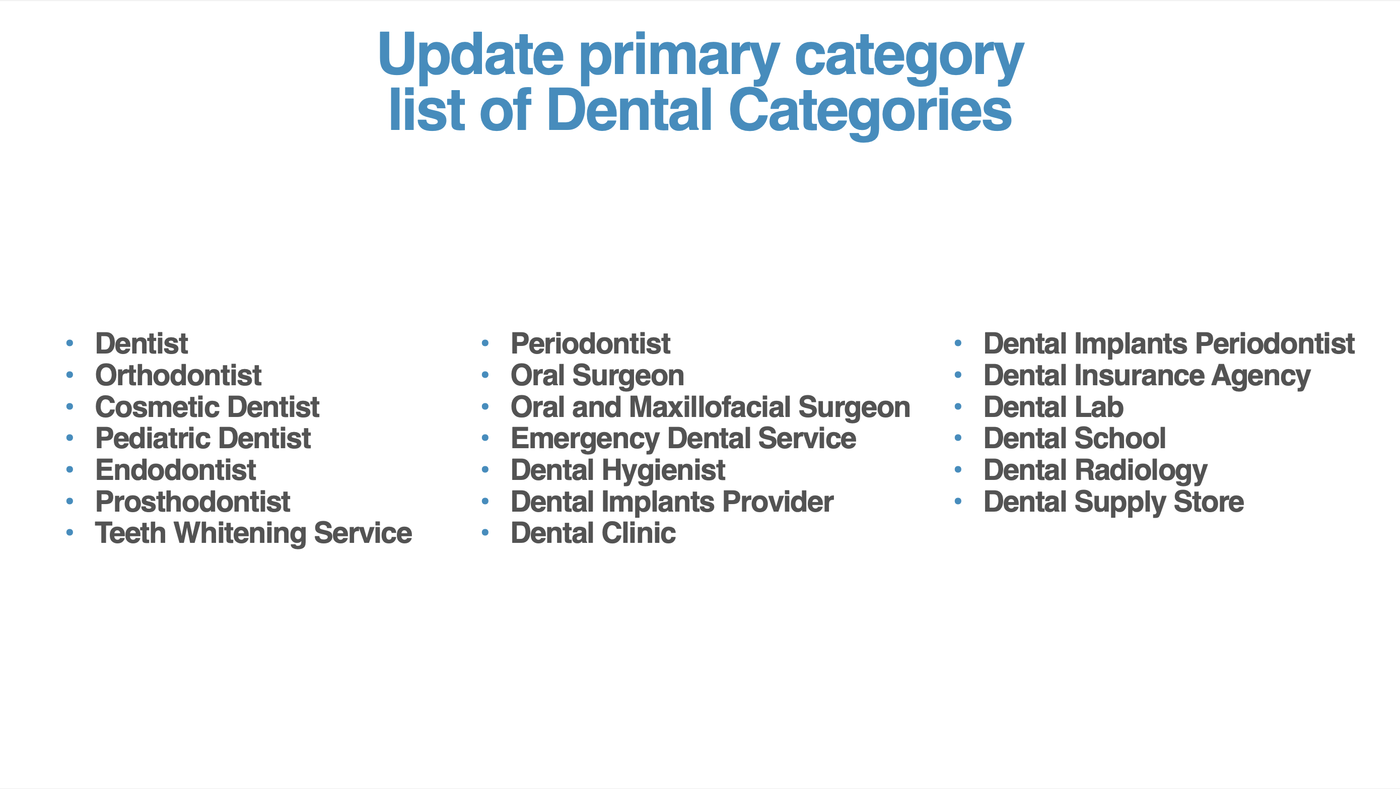 Each business profile allows for a primary category and multiple secondary categories. The primary category greatly impacts how your practice will rank on the Google map and for what keywords.
If you are a GP and your primary category is "dental clinic," you'll rank well when someone searches "dental clinic near me." But if someone searches "dentist near me," you may not rank as well as other practices with "dentist" as their primary category.
Please recognize the problem that I've outlined in the above example. Hardly anyone searches "dental clinic" compared to "dentist." I recommend that if you are a GP, you should list your primary category as "dentist," not "dental clinic."
Also, you shouldn't have too many categories. You can add several, but I recommend that you stick to two categories (three at the most). Your primary category should be your specialty. For instance, if you're a dentist, make "dentist" your primary category, and your secondary category should be the next most valuable service you want to promote.
Dentists who want to attract implant patients will update their listing with "dental implant provider" as their secondary category. Doing this will help the practice rank for dental implant keywords. This two-tiered approach provides a clear picture of your practice to Google and will help your practice rank for valuable keywords.
Add all Twenty Service Locations
Google allows you to add locations to your GBP to help direct search rankings. While your dental practice has a fixed physical location, your potential patient base is not confined to that area. Google understands this and allows up to twenty service locations to be added to your profile. By adding all twenty locations, your practice is more likely to appear on Google Maps in multiple areas, increasing your chances of being found by new patients.
There is a bit of finesse involved in deciding which areas to list. A great rule of thumb is to be conservative. If you add areas that are dense, competitive, and far away, you're less likely to rank in those areas. Stick to areas where the majority of your patients are currently coming from. For more information on how to decide on your service areas, watch this Google Maps optimization video.
You can also run a complimentary Google Maps ranking report which shows where you're already ranking. With a report like this, you'll be able to identify what areas you should list in the location section of your GBP.
Update and Add Dental Services
While your services may be extensive, don't hold back on listing all of them on your Google Business Profile. If the service isn't listed in the services section, you're less likely to rank for those keywords. For example, if "dental implants" is a service you offer but it is not listed in your services section, you may not show up when someone searches "how much do dental implants cost?".
Make it a point to list every single service your practice provides. You're allowed to list a title and a description. Make sure that you add a full description and use up the character limit. The words you list in the services section are vital metadata for Google. I would also encourage you to add the service locations in your service descriptions. Even though the service titles and descriptions aren't visible to users, Google sees the services, and they're key to helping your business profile rank higher.
Ready, Set, Optimize!
We hope these three keys unlock new avenues of growth and visibility for your dental practice. While this may seem overwhelming at first, remember the few minutes you invest in optimizing your Google Business Profile can result in a significant uptick in your practice's overall visibility.
Updating your Google Business Profile is straightforward, and the benefits are immense. So why wait? Start optimizing today and watch your practice shine brightly on the Google map, attracting more new patients than ever before.
For further information on local SEO, watch the training video How Google Map Rankings Work and Ways to Improve Them. And if you have a difficult time finding your GBP here is a video explaining how to find it.