The profession of dentistry is challenging and ever-changing. Entering into practice and then staying abreast of the latest developments can be daunting. The Harbor Dental Society Mentorship Program has been established to assist dentists of all levels of experience to fill in the "gaps" of knowledge that inevitably arise. More recent graduates can benefit from the clinical and business expertise (often not taught in pre-doctoral dental programs), from their more experienced colleagues. Seasoned members may wish to learn about the practical application of the latest scientific and technical developments in a "one-on–one" situation. Both mentors and mentees can enjoy the benefits of a personal, collegial relationship, not often available through traditional means of education. The Harbor Dental Society invites members from all levels of experience to become a volunteer leader and be a part of the mentorship program.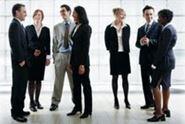 VIDEO: Members and Leaders give you insights on the value of being a part of Harbor
Now is the time to VOLUNTEER!
Gain new friendships with colleagues and see how your achievements can make a positive impact.
It's Easy, Fun and REWARDING!

CDA Cares Long Beach allows volunteer dentists, with the assistance of other health professionals and community volunteers, to provide dental services at no charge to an average of 1,950 people at each two-day event. Put your compassion into action at CDA Cares Long Beach, July 17-18, 2020. #CDACares #CaresLB
Join the Long Beach Community Team of Volunteers
Community volunteers are needed to register patients and volunteers, to help set up, enter treatment data, escort patients, interpret and more.
Volunteer for CDA Cares
Volunteer registration for CDA Cares Long Beach is now open. Thank you for delivering smiles and making a positive impact!
https://www.cdafoundation.org/cda-cares/long-beach
Location
Long Beach Convention & Entertainment Center, 100 S Pine Ave., Long Beach CA 90802
Dates
Setup: Thursday, July 16, Free Dental Clinic: Friday, July 17, 2020 and Saturday, July 18, 2020
Getting there
Hotel, maps, and parking
Volunteer Resources
Clinic Philosophy
Job Protocols
Liability Coverage
Volunteer FAQ
Orientations
Social Media
Spread the word by posting on Facebook, Instagram, and Twitter by using the hashtag #CDACares #CaresLB
Be a Part of the Conversation on Facebook
Join the Facebook page: bit.ly/CaresLB
Text for news and to donate
Text CARE4HEALTH to 51555 to receive news from the CDA Foundation and updates about CDA Cares.
Text CARES4HEALTH to 41444 to donate.
Be a part of Harbor Dental Society by joining the Mentorship Program
Mentors and mentees simply complete the designated application forms listed above. If you wish to be a mentor, identify the areas in which you feel most comfortable participating (e.eg. clinical or business) or "general" if you have no preference.

Mentees should select the topics that interest them the most, or simply "general".

The HDS will notify you within 3 weeks of your match, and provide the appropriate contact and support materials.

The structure is designed to be flexible with meetings and communications arranged by the members themselves. That means it can be highly structured, e.g. with an agenda, or informal.

The commitment is for 6 months. This provides maximum flexibility.

It is important to know before you begin if being a mentee is right for you so contact Harbor to discuss the best match for you.
The Harbor Dental Society Mentorship Program is FREE to all HDS members. For more information, please don't hesitate to contact the HDS office at 562.595.6303.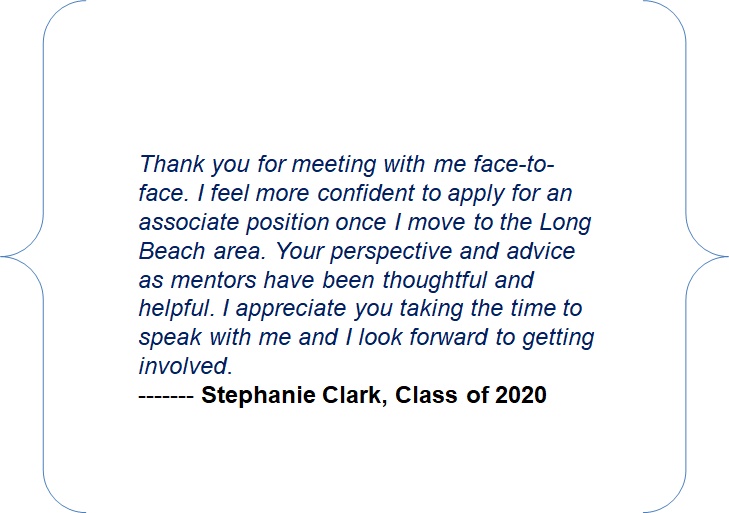 Important Elements of a Successful Mentor-Mentee Relationship
1. Establish an open communication system with reciprocal feedback
2. Set standards, goals, and expectations
3. Establish trust
4. Care for and enjoy each other
5. Allow mistakes
6. Participate willingly
7. Demonstrate flexibility
8. Consider constraints to mentoring
9. Learn from others
10. Work on common tasks
11. Be open and comfortable
(Allen & Poteet, 1999)
Three "vital signs" of successful mentoring relationships: respect, responsiveness, and accountability.
Respect: Mutual respect. Professional and personal appreciation of one another enhances learning.
Responsiveness: Willingness to learn from your mentor and your mentor's willingness to respond.
Accountability: After mutually held goals and expectations are established, keep your agreements. Mentees who know and communicate their own goals and expectations can reap many benefits.
(Triple Creek Associates)