January 1, 2020 at 10:00 AM to 3:00 PM
Pricing
ADA, CDA, HDS Active Member
$50.00
Hygienist
$50.00
General Information
Course Number
03192020
Provider
Harbor Dental Society
Location

Harbor CE Online Platform

,

Speaker
Marc Geissberger, DDS, MA
Type/Category
Core
Credits
5
Alert: March 19 CE course is moving to a 'live' online CE course only. This may change due to the California Governor issuing an Emergency order. Stay tuned for an update.
Note: It is no longer available as a face-to-face CE course to follow the CDC guidelines and for precautionary safety measures for you as members, your staff and all others due to the COVID-19 pandemic. Thank you for your understanding as Harbor strives to continue to deliver members high caliber CE programs in the midst of this crisis.
Date: March 19 CE Program with CE Speaker Marc Geissberger, DDS, MA
Time: 10am-12:30pm PST Presentation Part 1 A link will be sent to you after online payment is submitted
Time: 12:30pm-3pm PST Presentation Part 2 A link will be sent to you after online payment is submitted
CE Topic: Adhesive Dentistry – Maximizing the Placement of Anterior and Posterior Composites
The use of composite resin material as a direct restorative for anterior and posterior restorations has
dramatically increased in the market place. With self-etching technology emerging as a viable
alternative to traditional techniques and the development of new technology to assist clinicians with
bulk-fill techniques, it is easy to get confused and fall behind. What materials will you advocate for use
in your practice? What has the literature been revealing on materials in current use? Should
practitioners change their current techniques? What preparation design will you utilize?
This program will attempt to make sense of all of the products and techniques available in today's
market place and will focus on materials and their applications as well as a brief review of some of the
literature. Emphasis will be placed on new developments in the composite area as well as outline what
developments to watch for in the coming years.
Learning Objectives:
-Self-etching principles and how they are applied to composite resins.
-How to reproduce natural tooth characteristics using composite resin.
-How to improve the appearance and longevity of composite restorations.
-What is required of materials to be utilized for bulk-fill and how to place them correctly.
- Proper placement techniques that maximize clinical outcomes and esthetics.
-How to control post-op sensitivity.
- The mechanisms of bonding systems and learn to control sensitivity.
-The differences between the various composites available to clinicians.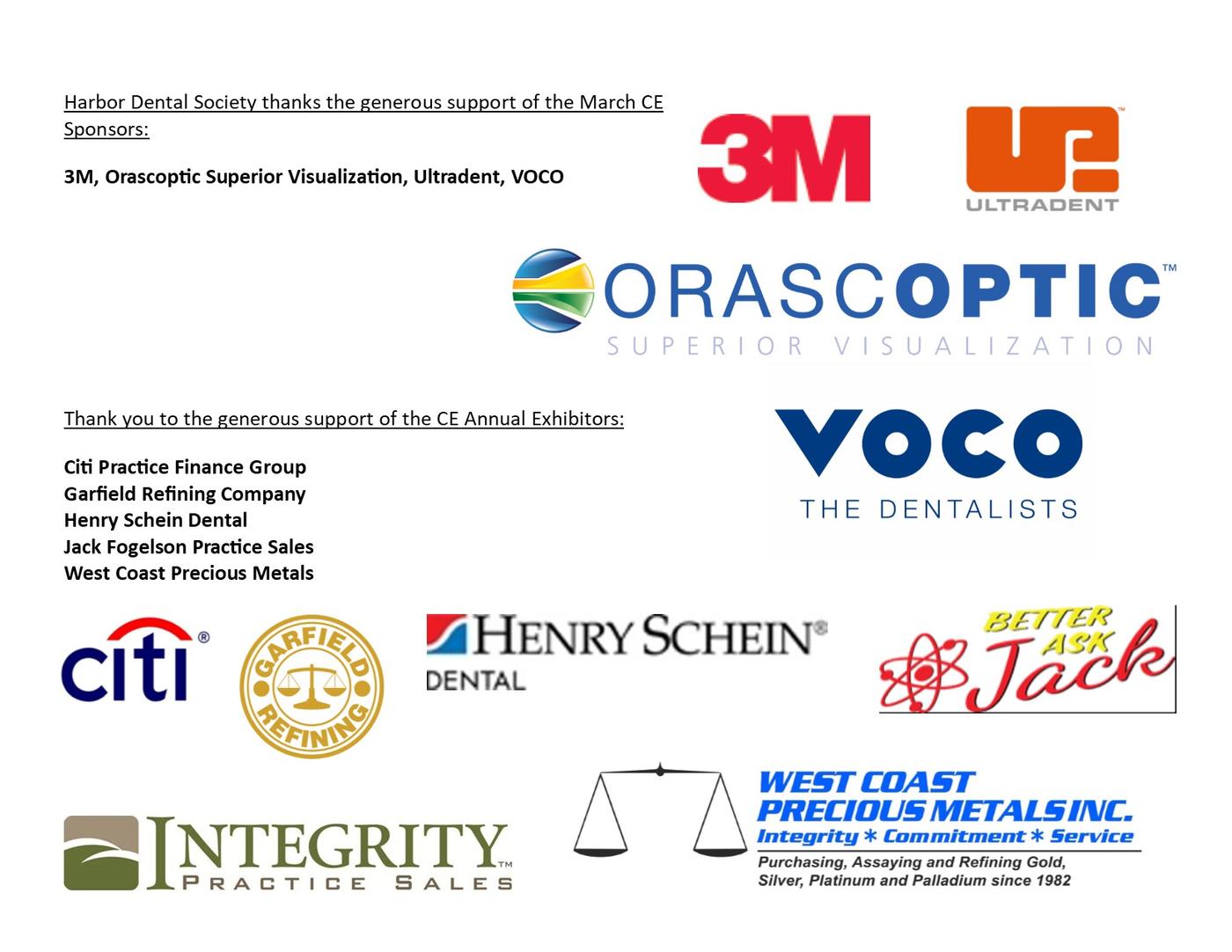 About the CE Speaker: Dr. Marc Geissberger attended the University of the Pacific, School of Dentistry, earning a Doctor of Dental Surgery degree in 1991. In 1994 Dr. Geissberger earned a Masters of Arts in Educational Psychology from the University of the Pacific School of Education. Dr. Geissberger has practiced in Marin since 1991. He splits his time equally between his private practice and educating practicing dentists He is an Adjunct Clinical Professor in the Department of
Preventive and Restorative Dentistry and served as the Chair of the Department of Integrated Reconstructive Dental Sciences at the University of the Pacific, School of Dentistry for 15 years. He has maintained a faculty appointment continuously since 1991.
Dr. Geissberger has been awarded a fellowship in the International College of Dentists, American College of Dentists, and the Pierre Fauchard Academy. He has won several teaching awards and completed a fellowship with the American Dental Education Association's Leadership Institute. He has
served as the President, President-Elect and Vice President of both the Supreme Chapter of Omicron Kappa Upsilon and University of the Pacific's Alumni Association.
Dr Geissberger teaches many continuing education courses and sits on the board of Catapult Education. He has presented 350 lectures and hands-on workshops to colleagues in the United States, Canada, Australia, New Zealand, China, Peru,and Taiwan. He has co-authored and published
numerous scientific papers and a textbook entitled Esthetic Dentistry in Clinical Practice for Wiley-Blackwell. Additionally, he is a Certified Personal Trainer and Fitness Nutrition Specialist through the National Academy of Sports Medicine.