December 9, 2021 at 6:00 PM to 8:15 PM
Pricing
General Information
Provider
Harbor Dental Society
Location

GotoWebinar

,

Speaker
Sam Halabo, DDS
Type/Category
Core
Credits
2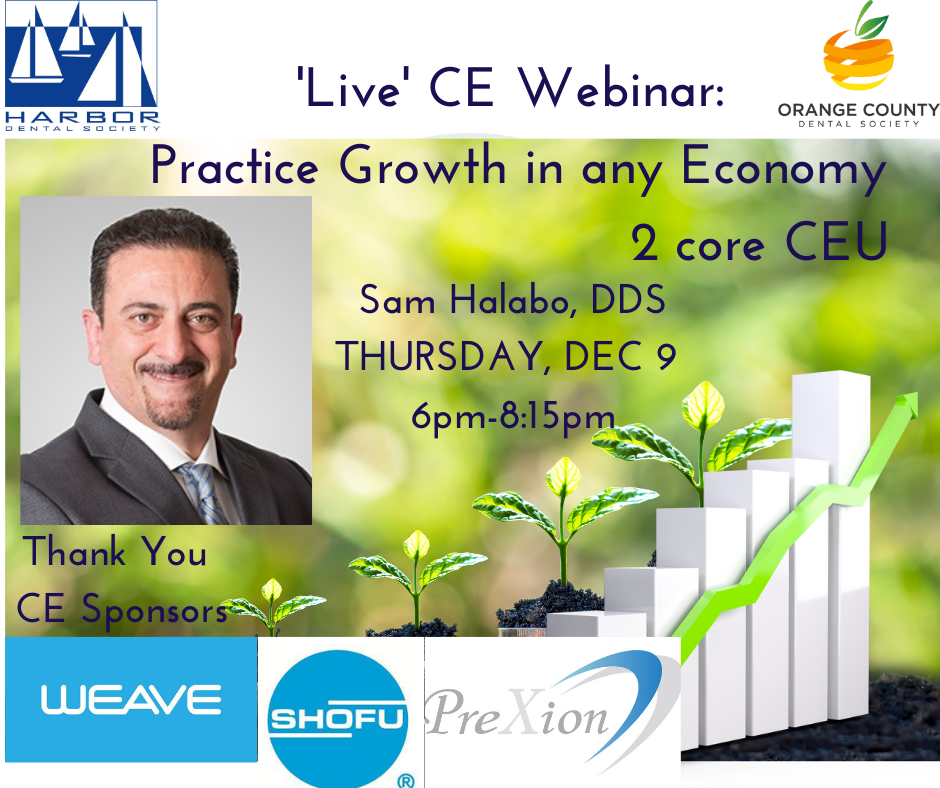 'Live' Virutal CE Program: 'Practice Growth in Any Economy' and Staff Appreciation and 2022 Rubber Duck Drawing!
Date: Thurs, Dec 9, 2021
Time: 6pm-8:15pm
CE Speaker: Sam Halabo, DDS
2 CEU noncore (20%)
Location: GoToWebinar
The ever-changing practice of dentistry can be daunting at times-New technologies, products and materials are constantly being introduced into the market place often leaving us wondering how to continue to grow and thrive in this economy. This course will explore many of the innovative dental care concepts available today. Discussions will include practice management concepts that work and numerous profitable procedures that can be implemented immediately. There will be a focus on the dental practice as a business and the information presented will help identify ideas that will renew the practice and set you apart from others around you.
Learning Objectives:
• Establish new goals and visions for their dental practices
• Use new team-building concepts
• Focus on marketing: internal, external, and online
• Use profitable procedures, equipment, and materials
IMPORTANT:

Please do not share your GoToWebinar Join Link to this webinar with anyone. Each Join Link is unique to the registered attendee's email and is required for attendance tracking. You must view the webinar on separate computers, do not share links or computers. Otherwise, your attendance will not be recorded and a CE certificate cannot be given.
Refund Policy: No refunds for no shows. Written cancellation must be received 2 days prior to the webinar date for a refund.
Thank you CE Sponsor:
Thank you to our Endorsed Vendors & Annual Exhibitors!